Waterplay Celebrates 30th Anniversary
Waterplay® Solutions Corp. celebrates 30 years as a worldwide provider of aquatic play solutions.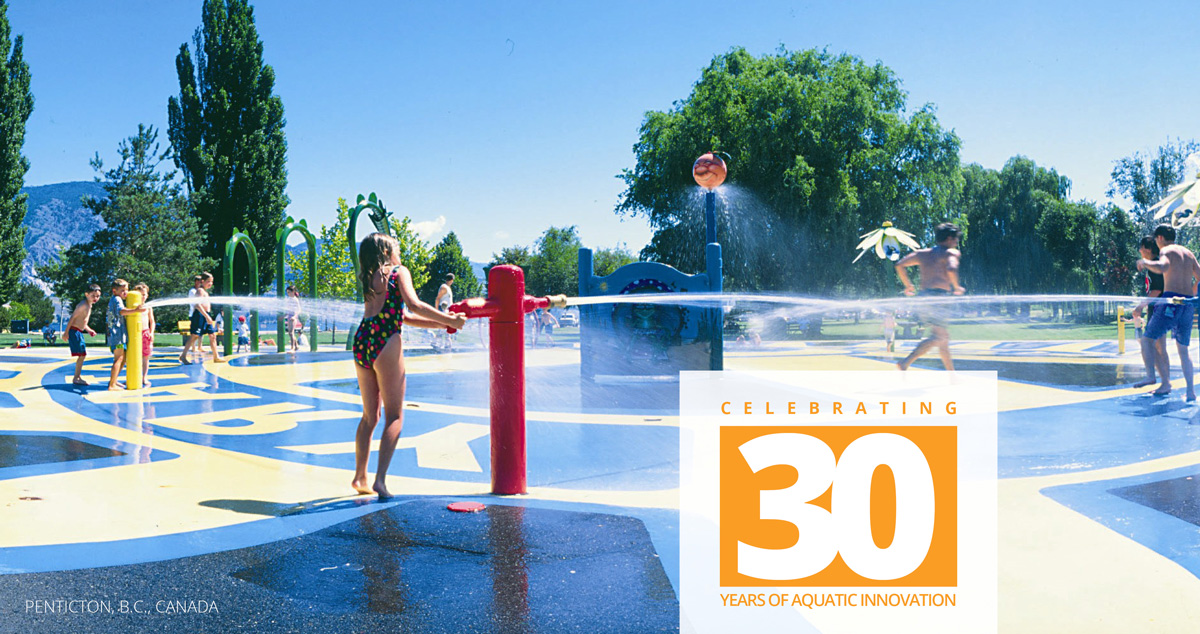 Posted by waterplayAdmin on February 28, 2017
Kelowna, Canada—February 28, 2017—Waterplay® is excited to celebrate its 30th anniversary this year. In 1987 Waterplay's founders helped pioneer an aquatic play industry of sprays and splashes with their mission to spread the joy of water to people and communities. Over the past three decades Waterplay has shaped thousands of play spaces across the globe—from neighborhood spray parks to largescale aquatic centres and attractions—with innovative product solutions and a commitment to quality, expertise and support.

Since its first installation in Whistler, Canada in 1987, Waterplay has evolved its aquatic play offerings to continuously deliver the fun and inclusive play experiences children love. Its first generation of aquatic features for the play pad and pool saw big changes by 2009 with interactive sound effects, its iconic Mega Soaker splashes and slide activity towers to elevate play experiences for all ages and abilities. In 2012 Waterplay partnered with world-renowned public space designer Markus Ehring, leading to the Grasslands Collection product collaboration. Featuring gentle discovery play elements, Grasslands introduced a whimsical design to connect children with the wonders of nature. This also marked Waterplay's shift towards collection-based solutions—optimized product and colour groupings to help create immersive play narratives. In 2015 Waterplay released Cirque—an Ehring Collection geared towards high action, interactive and collaborative play.

A transformative year for the company, 2016 saw some of Waterplay's greatest product advancements to date. The company released over 125 re-designed play features with optimized flow rates and water effects, and playPHASE™—a flush to grade anchoring system allowing park owners to easily remove, change or add play features as needed. With a focus on easy installation and adaptability, Waterplay launched a new generation of modular activity towers to fit any space or budget, and cutting-edge water management solutions with remote capabilities.

"It's been a tremendous journey for us. We've built a strong foundation over the past 30 years that is allowing us to push the industry forward in innovation, design and quality," says Waterplay President, Jill White. Product and service integrity is part of the company's heritage. In 2004 White made a pivotal decision to bring Waterplay's manufacturing processes in-house, raising the bar for quality, service and support—captured in its brand slogan, #theWaterplayDifference. With a dedicated team of 60+ employees and an international distribution network, Waterplay continues to build on its core mission: connecting the world through play. "Our product goes beyond splashes and sprays," continues White. "It has the ability to spark profound human connection and wellbeing on local and global scales."

With demand for aquatic play soaring across the globe, Waterplay continues to create product that pushes the boundaries of play to new horizons. The company looks forward to releasing its latest aquatic play innovations later this year, and celebrates this milestone anniversary with waterplayers around the world. To learn more about Waterplay and #theWaterplayDifference visit www.waterplay.com/en/about-us.
About Waterplay
Waterplay is committed to making the world a better place by offering innovative aquatic play solutions to the global community. Waterplay's full suite of products include freestanding aquatic play solutions designed to splash and spray, activity towers, architecturally-inspired urban water features, and water management solutions. A great addition to aquatic facilities, community spaces, holiday parks, hotels and resorts, housing developments, water parks, and attraction facilities—visit www.waterplay.com to learn more and join our movement to connect the world through play.
# # #
For more information, please contact:
Shanley Hutchinson
Marketing & Communications Manager
+1 (250) 712.3393 extension 109
Shanley.hutchinson@waterplay.com
www.waterplay.com