Waterplay® Announces Dealer Awards for 2019
Waterplay® Solutions Corp. honours distribution partner Watergames & More with two outstanding achievement awards.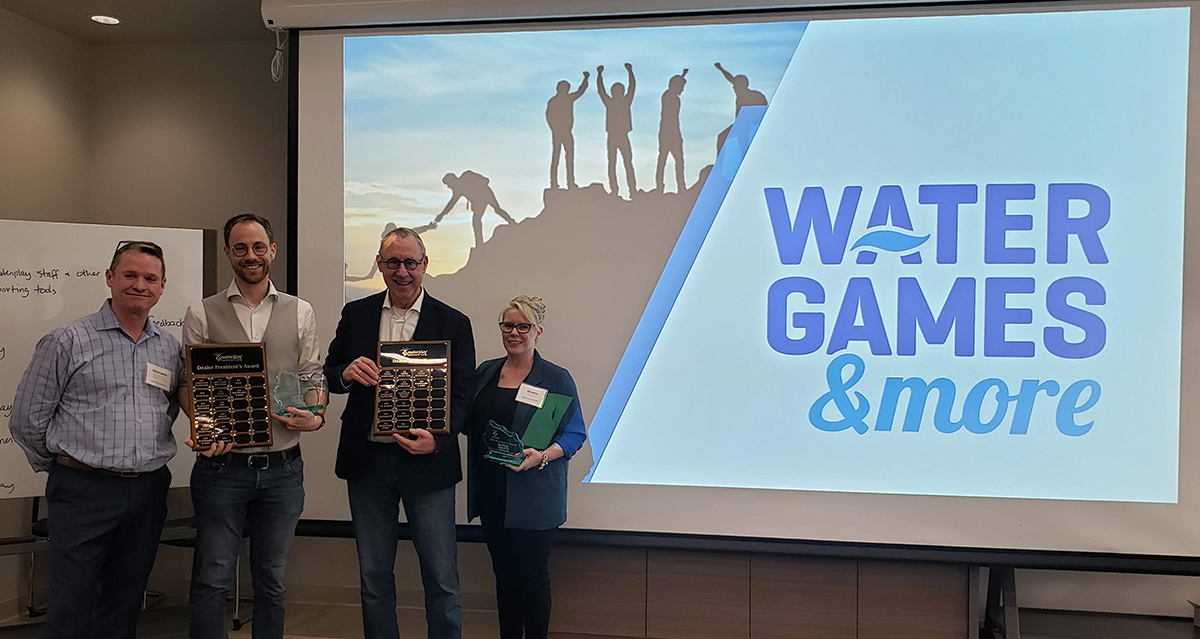 Posted by waterplayAdmin on February 7, 2020
Kelowna, British Columbia, Canada, February 12th, 2020—Waterplay® Solutions, a worldwide provider of aquatic play solutions, is excited to announce Watergames & More as the recipient of both the Waterplay Dealer of the Year and President's Award for 2019.

Every year Waterplay honours its strongest performing partners for sales achievement, positive community impact and marketing excellence. The Dealer of the Year award is given to the dealer who exceeds all sales expectations overall while the recipient of the President's Award is selected based on demonstrated investment in growing their market through unique sales and marketing initiatives.

Based in the Netherlands, Watergames & More has been a long-standing Waterplay dealer who is a top contender each year due to their superior reputation for excellence, strong customer relationships and outstanding commitment to the communities they service. "I am thrilled to recognize their success," commented Jill White, Waterplay President. "Being the recipient of both awards is a testament to the exceptional customer service that the entire team at Watergames & More provides to their customers. From innovative aquatic play designs to engaging marketing content and hands-on installation and maintenance support, they have developed a world-class offering and service for the aquatic play industry."

Waterplay looks forward to continued growth in 2020 with Watergames & More in the Netherlands, Belgium, Germany and Luxembourg and its entire dealer network throughout the globe.
About Waterplay

Since 1987 Waterplay has been committed to connecting the world through play by offering forward-thinking aquatic play solutions to the global community. Our team is made up of passionate play advocates who drive our vision forward through exceptional, research-based product design and outstanding customer service. Waterplay's full suite of products include freestanding aquatic play solutions designed to splash and spray, activity towers and water management solutions. A great addition to aquatic facilities, community spaces, holiday parks, hotels and resorts, housing developments, water parks and attraction facilities—visit www.waterplay.com to learn more and join our movement to connect the world through play.
About Watergames & More

Family company Watergames & More provides turnkey water attractions including Spray Parks by Waterplay Solutions Corp., from design up to and including assembly and maintenance. Attention to detail and expert service are of paramount importance to us, leaving all clients completely relieved throughout the entire process. With the correct translation of individual design requirements, high-quality products and skilled people, every expansion, replacement or new purchase is guaranteed to be a successful attraction. Visit watergamesandmore.com for more information and advice on your next aquatic play product.

###


For more information about this press release, please contact:

Robyn Hannams
Marketing Coordinator
+1 (250) 712.3393 Ext. 215
marketing@waterplay.com
www.waterplay.com