ACTIVITY TOWERS
Waterplay's Activity Towers are packed with exciting play value for all ages and play styles! Available in four distinct Signature Design footprints, Mini, Discovery, Exploration and Adventure, Activity Towers bring an elevated, dynamic play experience to any play space. Clear sightlines for optimum safety, big splashes and immersive play points for high engagement, with enough room to move around, explore and have fun!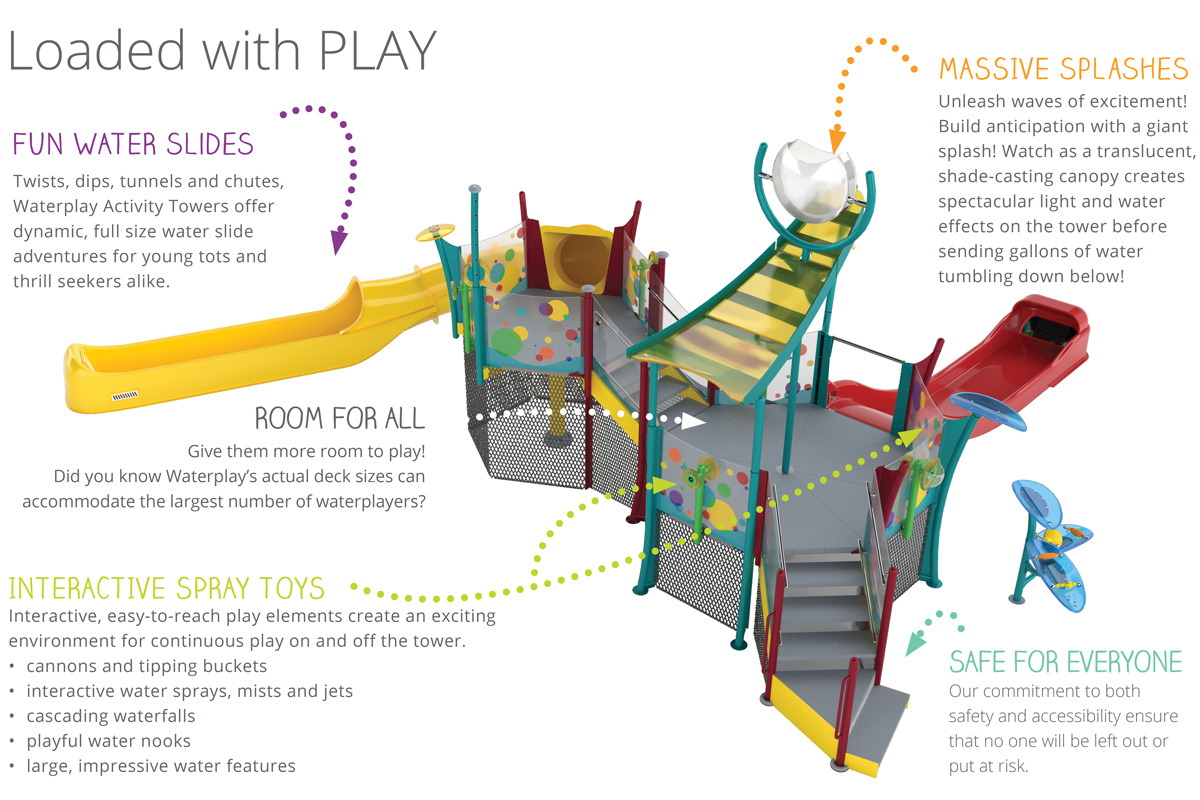 SIGNATURE DESIGNS
UNIQUELY DESIGNED ACTIVITY TOWER FOOTPRINTS
FOR ALL SPACES
MINI SERIES 


AGES 2+ FROM TODDLER TO EXPERIENCED

Neatly packed mini play structures with multiple spray encounters and design themes

• Perfect for tight spaces and smaller projects
• Perimeter splashes and calm water effects 
• 4' deck height & water slide

DISCOVERY SERIES




 AGES 2+ FROM TODDLER TO EXPERIENCED

Compact towers bursting with interactive fun both on and off the structure!

• 1 activity pod & easy-to-reach play features 
• Perfect for tight spaces and smaller projects 
• Perimeter activities & interactive sprays 
• 4' spacious deck height & water slides


EXPLORATION

 SERIES

AGES 2+ FROM TODDLER TO EXPERIENCED

Build up the fun with a second pod and elevation gain and a towering splash!

• 2 activity pods & easy-to-reach play features
• Introduces an elevation change
• Perimeter activities & interactive sprays
• 4' and 6' spacious deck heights & exciting water slides


ADVENTURE

 SERIES

AGES 4+ 

Give them an unforgettable adventure packed with skyhigh thrills, big splashes and unmatched play value. 

• Perfect for larger projects and attractions
• Multiple pods & elevation changes!
• Perimeter splashes & interactive sprays
• Open and closed water slides
• 4', 6' and 8' spacious deck heights
INCREASE ATTENDANCE

WITH CONTINUOUS PLAY.
Interactive, easy-to-access play elements create limitless fun on all levels, from the base of the tower to in-panel cannons and sky-high soakers. 
• cannons and tipping buckets
• in-panel splashers and sprays
• cascading waterfalls
• playful water nooks

BIG splashes! Build anticipation with the Tower Soaker's giant splash or double the play value with the Sky Soaker! Its translucent, shade-casting canopy creates spectacular light and water effects on the tower before tumbling down below!
Slides. Twists, dips, tunnels and chutes! Waterplay Activity Towers offer dynamic slide adventures for young tots and thrill seekers alike. 
Sightlines. Large, translucent panels, well-designed area transitions promote safe play, with clear visibility for an environment that nurtures confident exploration and happy caretakers.  
Elevations. Carefully considered elevation changes encourage waterplayers to confidently take their experiences to new heights.  

MORE SPACE

.

 

MORE FUN.

 

 
Having enough space to play is important. Waterplay's Hex and Octo Tower Pods can accommodate the largest number of waterplayers! Each spacious platform gives waterplayers room to explore, interact, collaborate and have fun! 
INCLUSIVE AND SAFE.

 
Inclusive. With play elements designed for all ages and abilities, spacious play surfaces and strategic elevation changes, the Activity Tower is truly inclusive: ADA accessible and ASTM compliant.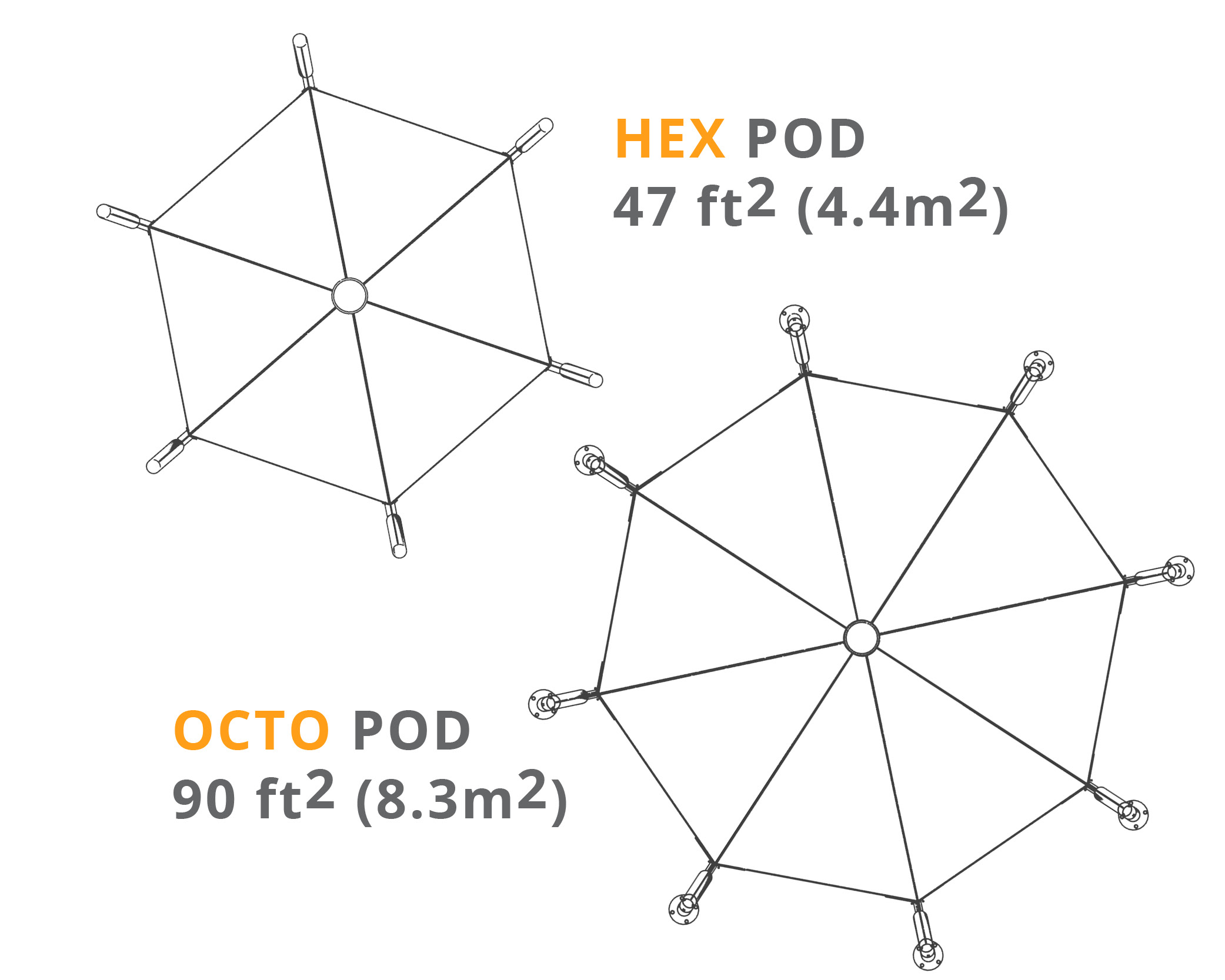 ANY SPACE, OR PROJECT STAGE.
playPHASE™ & playCONNECT™.  Your project will go through many phases in its lifecycle. The playPHASE™ and playCONNECT™ removable feature mounting systems make it easier than ever to install, maintain, expand and retrofit your play space.  
System benefits include: 
reduced installation 

costs

 

accelerated 

construction

 

simplified future refurbishments and 

expansions

 

efficient maintenance 

(no need for facility closure or tear down)

 

endless opportunity to reinvent your space!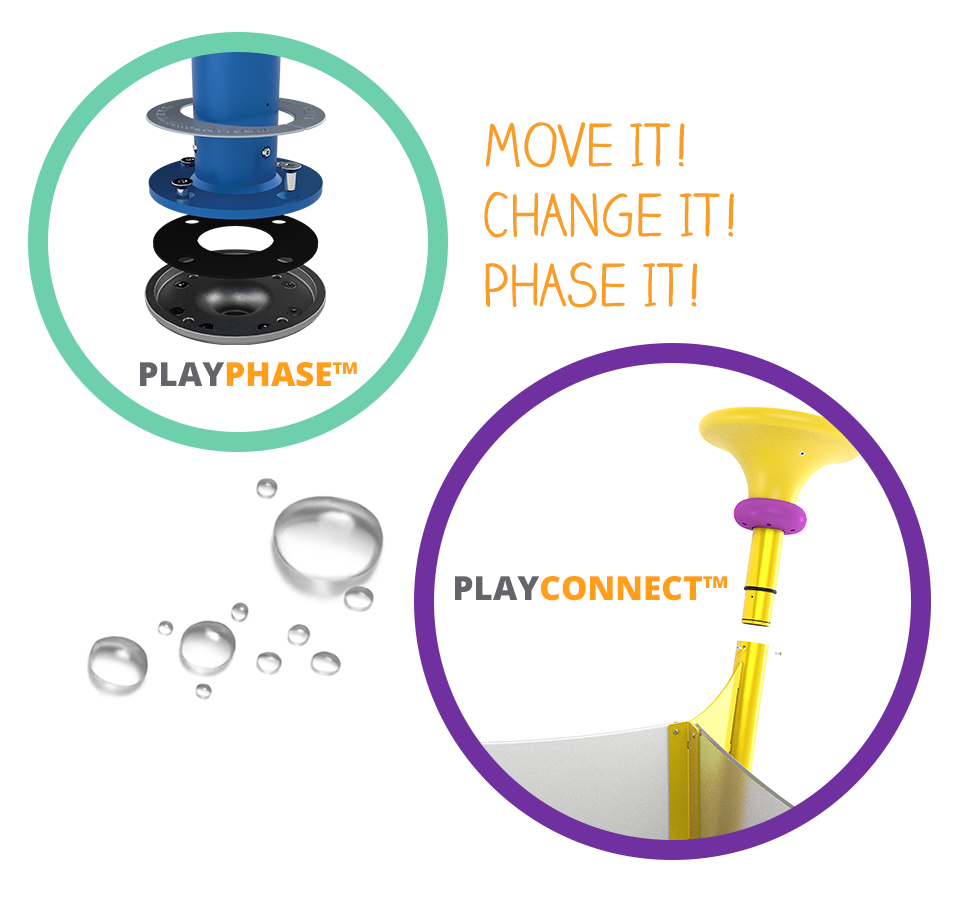 Work with Waterplay to create a stunning attraction unique to your play space.
 Contact our team to get started, or download the Activity Towers brochure here to learn more! 
ATTN: DESIGNERS! need more information? Connect with our Design & Specification Manager for full support during the entire design process.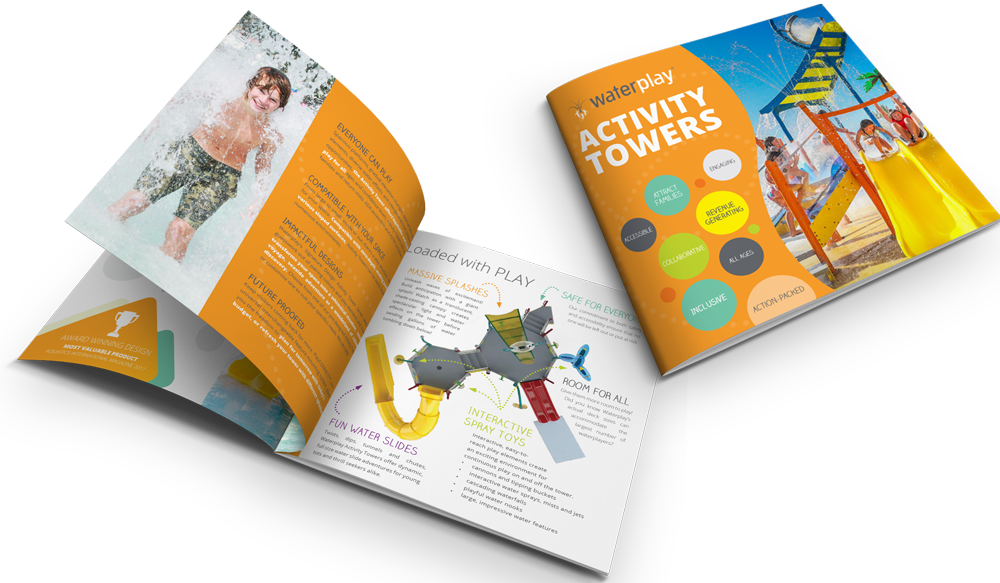 Need Help With Your Project?
Work with us! Let our highly skilled team of aquatic play experts seamlessly guide you through the process of planning, designing and installing your very own community splash pad or spray park. We're here to help you every step of the way - let's get started on your project!
Contact Our Team Today!