Waterplay Releases Exciting New Products to Stimulate Curiosity and Mindful Play
The Waterways product collection, an exciting innovation by Waterplay®, encourages free, continuous skill building play through interactive elements designed to encourage exploration and discovery.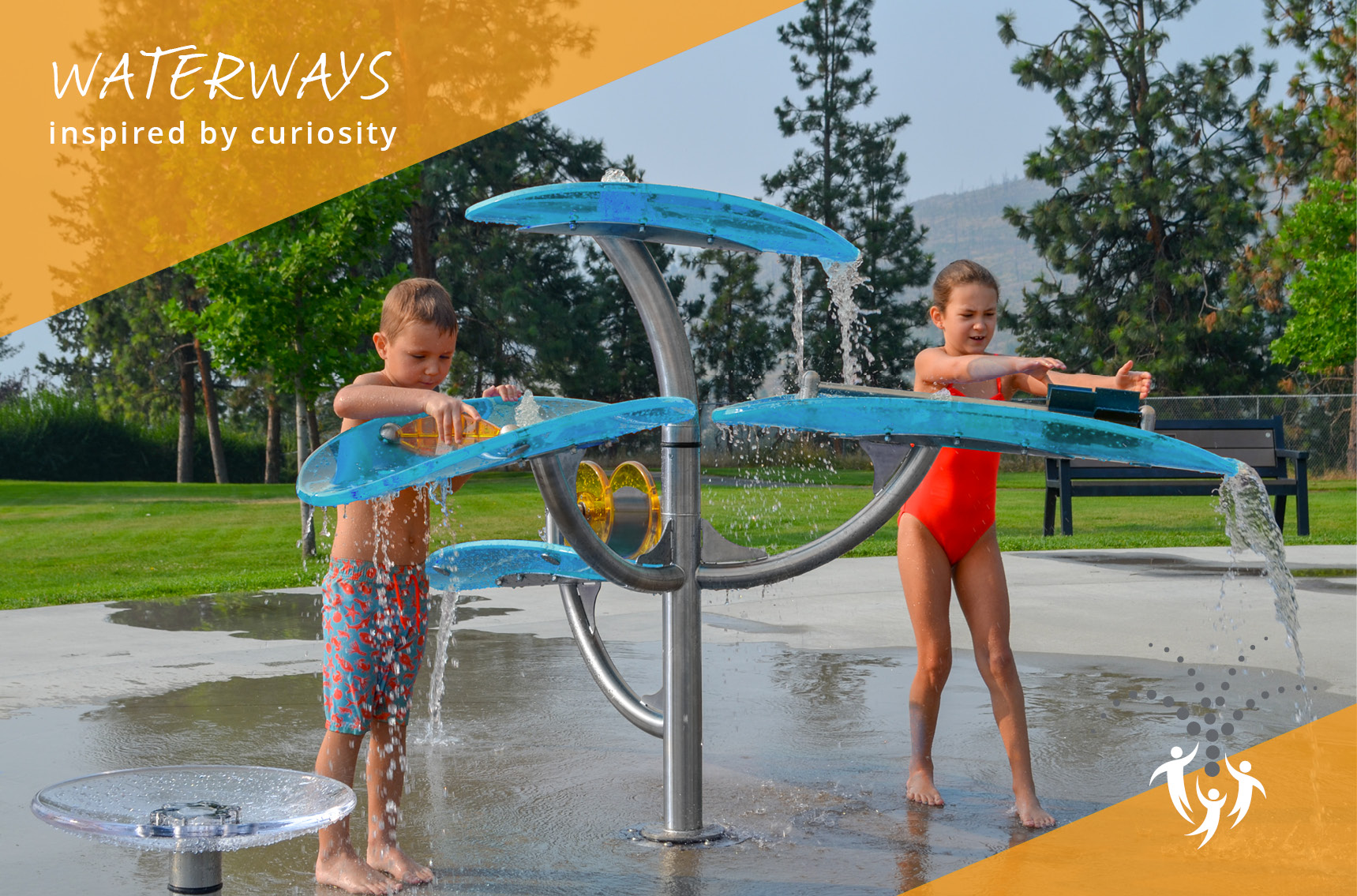 Posted by waterplayAdmin on September 26, 2018
Kelowna, Canada, September 25, 2018 ― Waterplay® Solutions, the world leader in forward-thinking aquatic play solutions, today launched the Waterways collection, a unique group of products designed to inspire curious minds through interactive, collaborative play experiences. Waterways is a perfect solution for any project, from commercial to municipal, looking for exciting features that cater to childhood development through skill-building activities.
"Play is such an integral part of learning and building experiences that we carry through to adulthood," says play theory expert Dr. Beverlie Dietze. "The Waterways product collection encourages peer and multi-generational collaboration, investigation, critical thinking and problem solving through the use of versatile weirs designed to block, catch, dump, guide, splash and plug the water. These products will inspire thoughtful, engaging play that keeps waterplayers coming back to learn more and test their theories and abilities."
Available now to the global market, Waterways is designed for all ages and ability levels and is comprised of five separate products that can standalone as individual features or be used in conjunction to create a larger, more dynamic play experience. The unique construction features only one surface connection point per feature making the design easy and cost effective to install, maintain and winterize.
"When conceptualizing the Waterways product collection we wanted to explore how we could create endless play value in an inclusive, compact, easy-to-install, modular design," says Waterplay President Jill White. "During the process we engaged external experts to consult in play theory and strategy, and also met with the design community to better understand the challenges they face when working with traditional play tables." White describes the experience of testing the product, "The group of Waterplay product testers ranged in age from 2-12 and each age group engaged with the product in such creative ways. They investigated, they pushed, pulled, and plugged, they splashed, they spun, they used their knees, hands and even elbows to block water, they helped each other reach and stretch their bodies to engage in elements that were just out of grasp, and they squatted down to get in close to investigate elements that are nearer to the ground."
Debuting at the NRPA National Conference in Indianapolis, Indiana, USA, on September 25th, and continuing on to the ASLA Conference in Los Angeles and IAAPA Attractions Expo in Orlando—the team at Waterplay is excited to share how the Waterways product collection will fit into your next play project. "We really can't wait to share this product with the world. Installers and designers will love how simple and versatile the product is to work with. The play value is endless and it looks stunning," adds White.
Click here to view the entire collection.
About Waterplay
With over 30 years of industry experience, Waterplay is committed to connecting the world through play by offering innovative aquatic play solutions to the global community. Waterplay's full suite of products include freestanding aquatic play solutions designed to splash and spray, activity towers and water management solutions. A great addition to aquatic facilities, community spaces, holiday parks, hotels and resorts, housing developments, water parks and attraction facilities—visit www.waterplay.com to learn more and join our movement to connect the world through play.
# # #
For more information, please contact:
Shanley Hutchinson
Creative Manager
+1 (250) 712.3393 extension 109
shanley.hutchinson@waterplay.com