Waterplay Gives Sneak Peek of New Aquatic Play Collection
Posted by waterplayAdmin on August 27, 2015
Waterplay® Solutions Corp. reveals a first look at their interactive new product collection with a feature that brings magic and mischief to the aquatic play pad.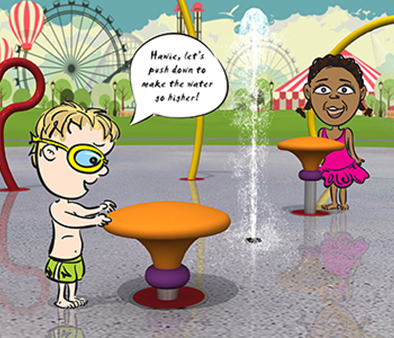 Kelowna, Canada—August 27, 2015— Waterplay® Solutions prepares to release their latest aquatic play pad collection at their lineup of upcoming trade shows throughout North America and Europe. For a sneak peek at the new interactive product line Waterplay unveils the Boingo—a feature designed to marvel, delight, and surprise.
Full of magic and mischief for exploring minds, the Boingo sends water to acrobatic heights by encouraging collaborative and discovery play. Waterplayers can push down on the feature to make water dance before them, or, bring a friendly sidekick to see who can catapult the spray higher. It's an aquatic spectacular not to be missed!
Come one, come all! Join Waterplay as they exhibit this fall season and be one of the first to see this exciting new product line as it is unveiled. Visit their booth at trade shows hosted by National Recreation and Parks Association (#1253), Leisure Industry Week (#B110), World Waterpark Association (#501), American Society of Landscape Architects (#1221), Euro Attractions Show (#A214), Holiday Park Innovation (#1356), and IAAPA North America (#4646).
About Waterplay
Waterplay® is committed to making the world a better place by offering innovative aquatic play solutions to the global community. Our full suite of products includes play features designed to splash and spray, activity centres, full-scale waterslides, and architecturally-inspired urban features. Visit www.waterplay.com to learn more about our movement to connect the world through play.
# # #

For more information, please contact:
Shanley Hutchinson
Marketing & Communications Manager
+1 (250) 712.3393 extension 109
shanley.hutchinson@waterplay.com
www.waterplay.com