Waterplay Releases the Water Weaver Series
In collaboration with Markus Ehring, Waterplay® Solutions delivers outstanding play value at an economical price point with Water Weavers.
Posted by waterplayAdmin on September 24, 2019
Kelowna, Canada, September 24, 2019 ― Get ready for another creative play experience by Waterplay®, the world leader in forward-thinking splash pad solutions. Available immediately to the global market Waterplay has released three new, experience-driven products with the Water Weaver series, a unique product grouping featuring a simple design with remarkable play value, at an economical price point.
The easy-to-install, low maintenance features hit the market well positioned to respond to the industry need for collaborative, multi-user play experiences. Created to stimulate the mind, Water Weavers inspire exploration and encourage spatial awareness and movement through interactivity and playful weaving water effects. Waterplayers jump, bend, reach, crouch, squat and run as they move their body to the speed and rhythm of the spiraling water as it splashes 360°!
"Water Weavers are a unique product that focuses on the energy the water brings to the play space," says Markus Ehring, founder of German design company Public Poetry and lead designer for the Water Weaver concept. "The design is minimal, but the play value and water display are exceptional, making for a very fun product that will be a nice addition to any space."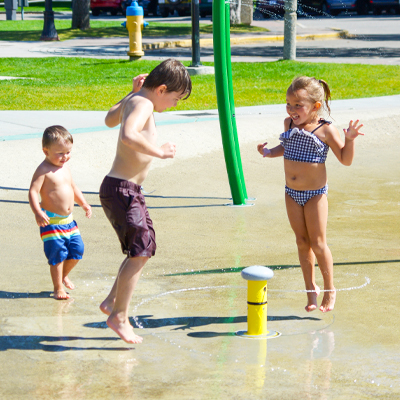 The three products work together as a group, or individually, alongside any of Waterplay's product lines. Perfect for a new installation, a refurbishment project, or an expansion, Water Weavers delivers innovation and excitement with unmatched value.
Contact Waterplay today to learn more about Water Weavers: info@waterplay.com.
---
ABOUT WATERPLAY
With over 30 years of industry experience, Waterplay is committed to connecting the world through play by offering innovative aquatic play solutions to the global community. Waterplay's full suite of products include freestanding aquatic play solutions designed to splash and spray, activity towers and water management solutions. A great addition to aquatic facilities, community spaces, holiday parks, hotels and resorts, housing developments, water parks and attraction facilities—visit www.waterplay.com to learn more and join our movement to connect the world through play.
# # #
For more information, please contact:


Shanley Hutchinson, Creative Manager
+1 (250) 712.3393 Ext. 109
---