Waterplay Spray Pad Wins for Outstanding Design
Posted by waterplayAdmin on July 24, 2015
Kelowna, Canada—July 22, 2015—Waterplay® Solutions is excited to announce its spray pad at Splesj Water Park in the Netherlands was chosen as a 2015 Dream Design by Aquatics International Magazine. This unique zero-depth play space qualified as one of the top ten aquatic facility designs in the world, as selected by the popular industry magazine.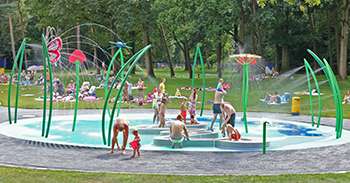 By offering two unique spray pads, Splesj Water Park lets visitors choose from a range of play styles, ensuring the facility offers something for everyone. A traditional spray pad with large dumping buckets and water cannons provides a high action play zone to keep older waterplayers entertained, while the adjoining pad is designed to engage families in contemplative play through gentler sprays, showering canopies of wildflowers, a meandering stream, and tall shoots of misting grass. Waterplay Solutions worked with its distribution partner, Watergames & More to help renovate this European camping attraction and create a nature-inspired play space that would be enjoyed by visitors of all ages.
Waterplay is honoured by this international recognition and celebrates the achievement with all partners who helped make Splesj Water Park a choice destination for visitors and their families.
About Waterplay
Waterplay® Solutions is a provider of premium aquatic recreation features for indoor and outdoor aquatic play spaces world-wide. Located in Kelowna, Canada, Waterplay's full suite of products include play features designed to splash and spray, slide activity centres, full-scale waterslides, and architecturally-inspired urban water features designed to turn any space into water wonderland.  A great addition to aquatic facilities, community and commercial spaces, holiday parks, hotels and resorts, water parks, and attraction facilities looking to increase attendance through play—visit www.waterplay.com to learn more.
# # #

For more information, please contact:
Shanley Hutchinson
Marketing & Communications Manager
+1 (250) 712.3393 extension 109
shanley.hutchinson@waterplay.com
www.waterplay.com