Puddles Selected As Most Valuable Product
Puddles by Waterplay® Solutions selected as a 2015 Most Valuable Product.
Posted by waterplayAdmin on June 12, 2015
Kelowna, Canada—June 12, 2015—Waterplay® Solutions is excited to announce its new Puddles water feature was selected as a Most Valuable Product (MVP) by Aquatics International Magazine. It's one of five waterpark products this year to be voted as a top pick by readers of the popular industry magazine.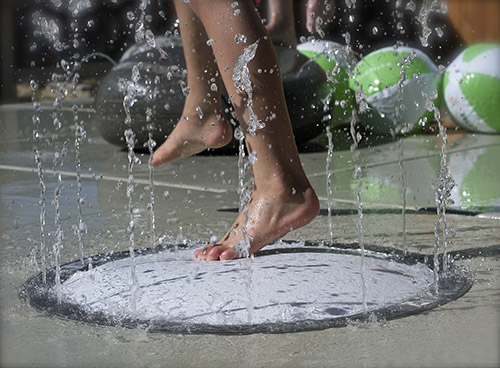 Puddles bring the irresistible fun of jumping in a rain puddle to the aquatic play pad. This exciting twist on the traditional ground spray gives kids a new interactive way to make a splash. The squishy surface of the jump pad encourages them to stomp, dance, or hop to create all kinds of water effects. Puddles are available in three designs, each offering a unique spray pattern.
Waterplay is honoured by this outstanding recognition and looks forward to seeing Puddles enjoyed by waterplayers around the globe!
About Waterplay
Waterplay® Solutions is a provider of premium aquatic recreation features for indoor and outdoor aquatic play spaces world-wide. Located in Kelowna, Canada, Waterplay's full suite of products include play features designed to splash and spray, slide activity centres, full-scale waterslides, and architecturally-inspired urban water features designed to turn any space into water wonderland.  A great addition to aquatic facilities, community and commercial spaces, holiday parks, hotels and resorts, water parks, and attraction facilities looking to increase attendance through play—visit www.waterplay.com to learn more.

# # #
For more information, please contact:
Shanley Hutchinson
Marketing & Communications Manager
+1 (250) 712.3393 extension 109
shanley.hutchinson@waterplay.com
www.waterplay.com