Waterplay Corp. Introduces Fellows
Introducing Fellows, Eight Friendly Splash Pad Characters Designed For Creative Play Experiences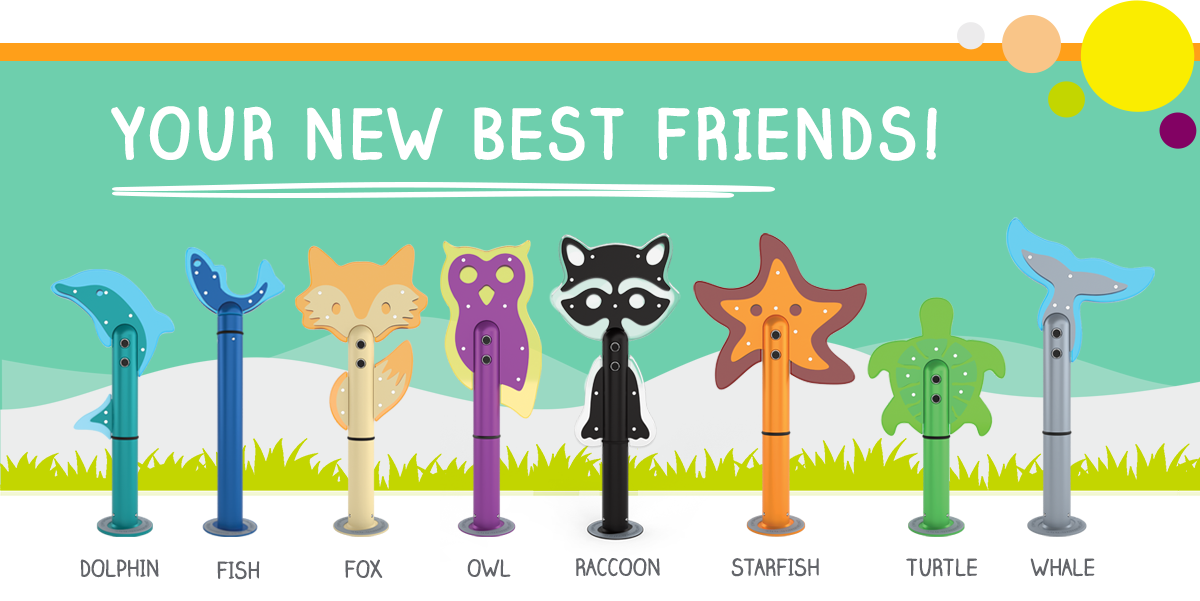 Posted by waterplayAdmin on March 9, 2021
In collaboration with German designer, Markus Ehring, comes Fellows, Waterplay® Solutions' newest splash pad essential. Perfect for toddlers and young kids looking for imaginative, hands-on, interactive play.

Kelowna, Canada, March 9th, 2021―Meet your newest splash pad BFFs! Waterplay is excited to unleash eight new splash pad characters for your next aquatic play project. Fellows slide into the market at a competitive price point and offer unique and immersive play experiences for ages 3-8 years old. Easy to install and maintain in any aquatic environment, the Fellows characters feature common forest and nautical aesthetics that are both approachable and relatable to young waterplayers.
"The idea behind Fellows is to invite the child to become the creature or animal while they are playing," says Markus Ehring, lead designer of the Fellows product and creative mind behind Public Poetry. "Sized to the right height for younger children, they will grab onto the character and peer through the translucent acrylic, as if they are the animal, or maybe as if they are hiding. It also makes for such fun when parents take magical photos of the kids looking through the eyes of the animal."
Featuring 360° rotation, the Fellows come in eight, relatable creature aesthetics: a sly, friendly Fox, a slippery Fish and a playful Dolphin, a wild Raccoon, a happy Starfish, a Turtle, a colourful Owl, and a Whale's tail! Because of the simple design and construction, Fellows can easily be customized to complement additional themes unique to your project. Need a penguin or a koala? Look no further than Fellows—Waterplay's creative design team can create a custom design to meet the needs of your project.
Available now to the global market, Fellows deliver an inclusive and creative aquatic play experience that is perfect for new projects, feature upgrades, or space refurbishments.
See them in action:
Contact Waterplay today to make Fellows part of your next aquatic project: info@waterplay.com.
About Waterplay
Let's have fun! Waterplay designs and manufactures aquatic play equipment for indoor and outdoor play spaces. Freestanding play features, ground sprays and playable water fountains, elevated play structures with slides and water management solutions. We specialize in high play value, quality products that are inclusive to every play style and physical ability. With aquatic play, water management, seating, shade, surfacing and washroom and changeroom facility solutions, there's no aquatic play project that we can't handle. Call us today to work through the discovery phase of your project and get access to our expert teams, 2D and 3D design, and enjoy lifetime post-installation support. Working with Waterplay makes building splash pads simple and FUN! Visit www.waterplay.com to learn more.
# # #
For more information, please contact:
Shanley Hutchinson, Group Marketing Manager
+1 (250) 712.3393 Ext. 109