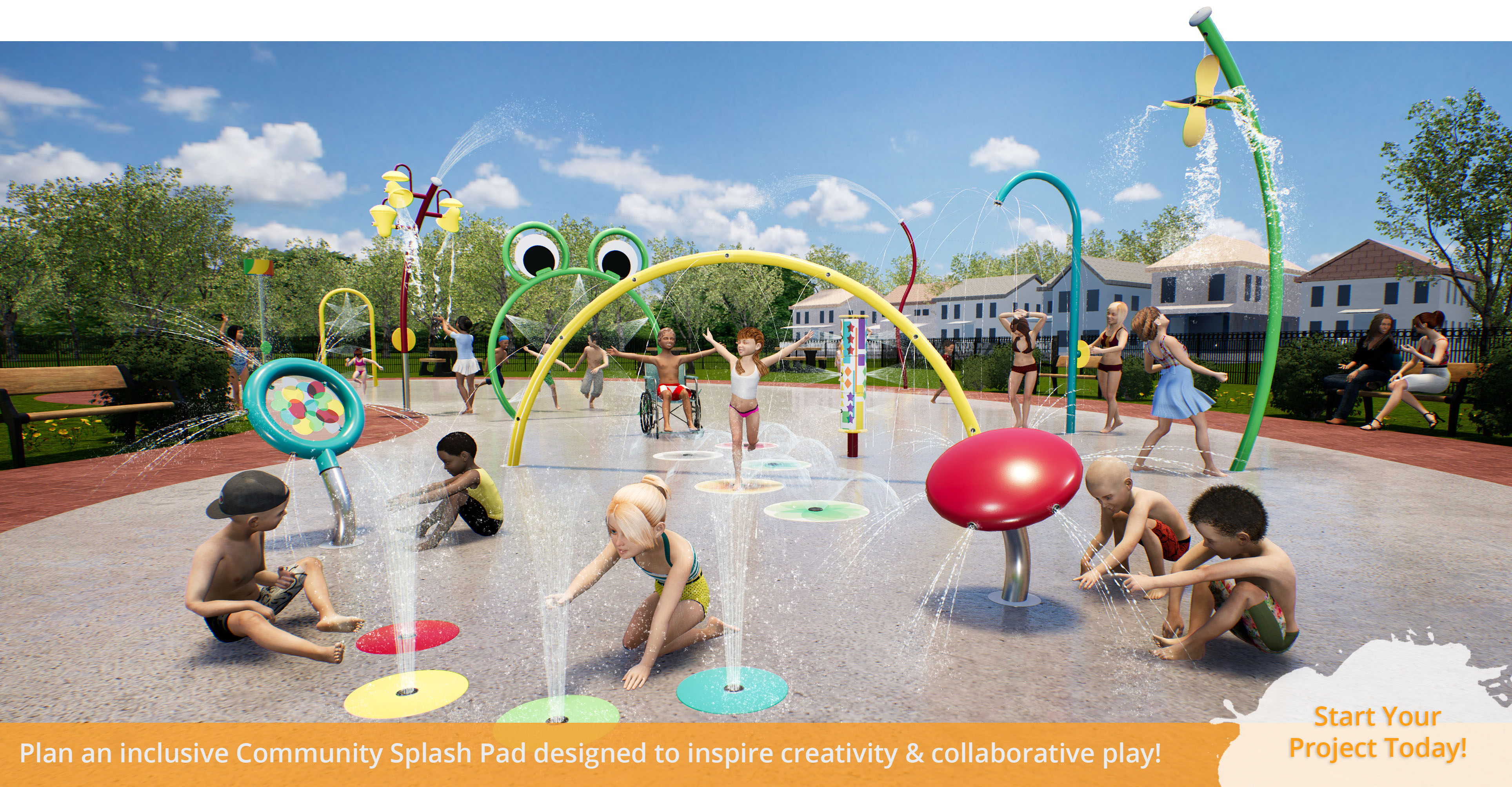 PLANNING AND INSTALLING a properly engineered splash pad will save you time and money in long-term maintenance, operational costs and allow for flexibility when expanding or upgrading your aquatic play solution.
Read our 10-Step Guide for planning a Community Splash Pad.
Ready to get started on your project? Contact our Project Support Team today!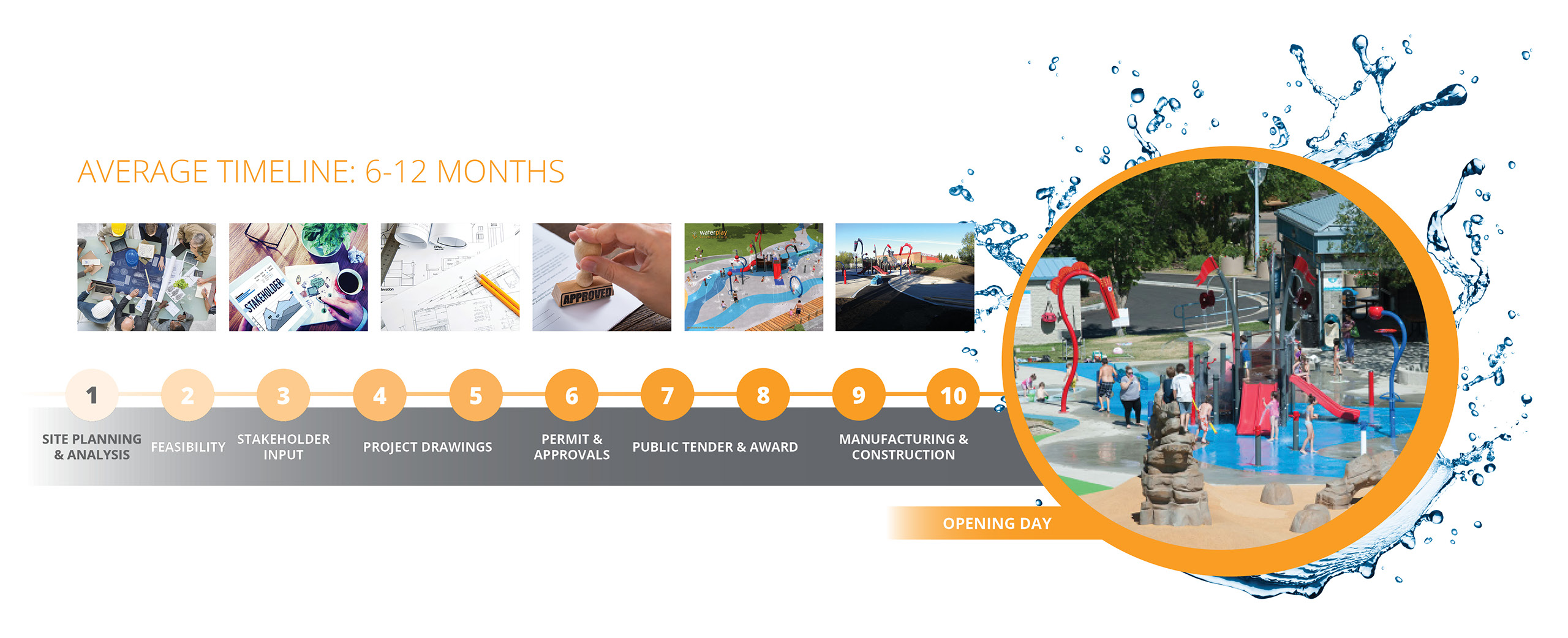 Stage 1: Site Planning & Analysis
Perform a full analysis of your site to ensure that the intended design complies with local building codes and best construction practices.
Hire an aquatic project engineer to manage the scheduling, pre-planning, resource forecasting and other technical activities required for your splash pad. Additionally, you can put your project engineer in charge of handling all communications with your aquatic designers, landscape architects and splash pad installers.
An experienced aquatic project engineer will help to keep your splash pad on schedule and completed according to plan.
Looking for a financing solution? Learn more about Marlin Capital Solutions.
Stage 2: Feasibility Evaluation
You've done the groundwork for your project. What's next?
It's time to evaluate all of the relevant factors that could affect the success of your aquatic play project.
For example, start with these questions …
Where is the water supply coming from for my splash pad?

What water consumption rates should I expect?

What kind of water management system is needed and which is the best solution for my splash pad?

What is the total project budget – including installation, maintenance and other related costs?

And, so on …
Deciding on what type of water management solution is best for your splash pad can be complicated, however, Waterplay makes that part of the process a snap with our integrated water management systems and tools.
Learn More about our Water Management Solutions and let us do the heavy lifting for you!
Stage 3: Obtain Stakeholder Input
Gather community feedback to measure how well your splash pad plans align with the needs, wants and priorities of the community who will be using it. The success of your aquatic play project heavily depends on this feedback. So, do your research and leave the guesswork out of planning!
Some key things to consider are,
Is the splash pad targeted to a specific age group? Should play zones be considered?

What does the community want? A zero-depth aquatic play pad or an aquatic play pool with waterslides?

How will the splash pad impact its surroundings? Should we consider eco-friendly solutions?

Is there a community/local theme that will be carried into the aquatic play space?
Learn More about our Aquatic Play Collections that are designed to inspire creativity and adapt to any environment.
Stage 4 & 5: Aquatic Project Drawings
Prepare aquatic project drawings to create a visual representation of all of the required components for your splash pad. Your drawings should clearly illustrate and define:
The overall layout of the splash pad and the placement of each of it's play features

The spray radius and flow rates for each feature

And finally, the piping schematics
The precise details of these project drawings help to streamline the planning, development and manufacturing process and can reduce the risks associated with the implementation of your splash pad.
Below are a few helpful examples of splash pad project drawings for review purposes.
Stage 6: Obtain Permits & Approvals
Engage with your local health authority to understand the specialized health code regulations for your splash pad. This will save you time and money when applying for permits and allow for a shortened approval process.
It is also crucial to identify the necessary city or state building permits that will be required for the installation phase of your aquatic project.
Stage 7 & 8: Public Tender & Award System
In some cases, the equipment and services needed for an aquatic project will be contracted through a competitive bidding process, whereby a request for proposal (RFP) is extended to potential suppliers and aquatics manufacturers. Through this procurement process, the contract is awarded to the most preferable proposal. 
Eligible public agencies can work with Purchasing Cooperatives to assist with contract procurement. Waterplay is an official contracted vendor of the HGACBuy Purchasing Cooperative across the United States.
Learn More about HGACBuy - membership is free!
Stage 9: Manufacturing & Construction Process
You've thoroughly planned, analyzed and signed off on all matters related to your aquatic play project. The big day is here and it's time to break ground on your splash pad!
From laying the play pad floor to installing the features, this time lapse video shows the Discovery Parks Barossa Valley Holiday Park project in South Australia from start to finish.
Stage 10: Opening Day!
It's been a long journey and opening day has finally arrived! Community members and children of all ages are bursting with excitement and curious to see what will happen when the water turns on. With one press of the activator button, the fun and games begin!
Your aquatic play project is a great success and will be enjoyed for years and years to come!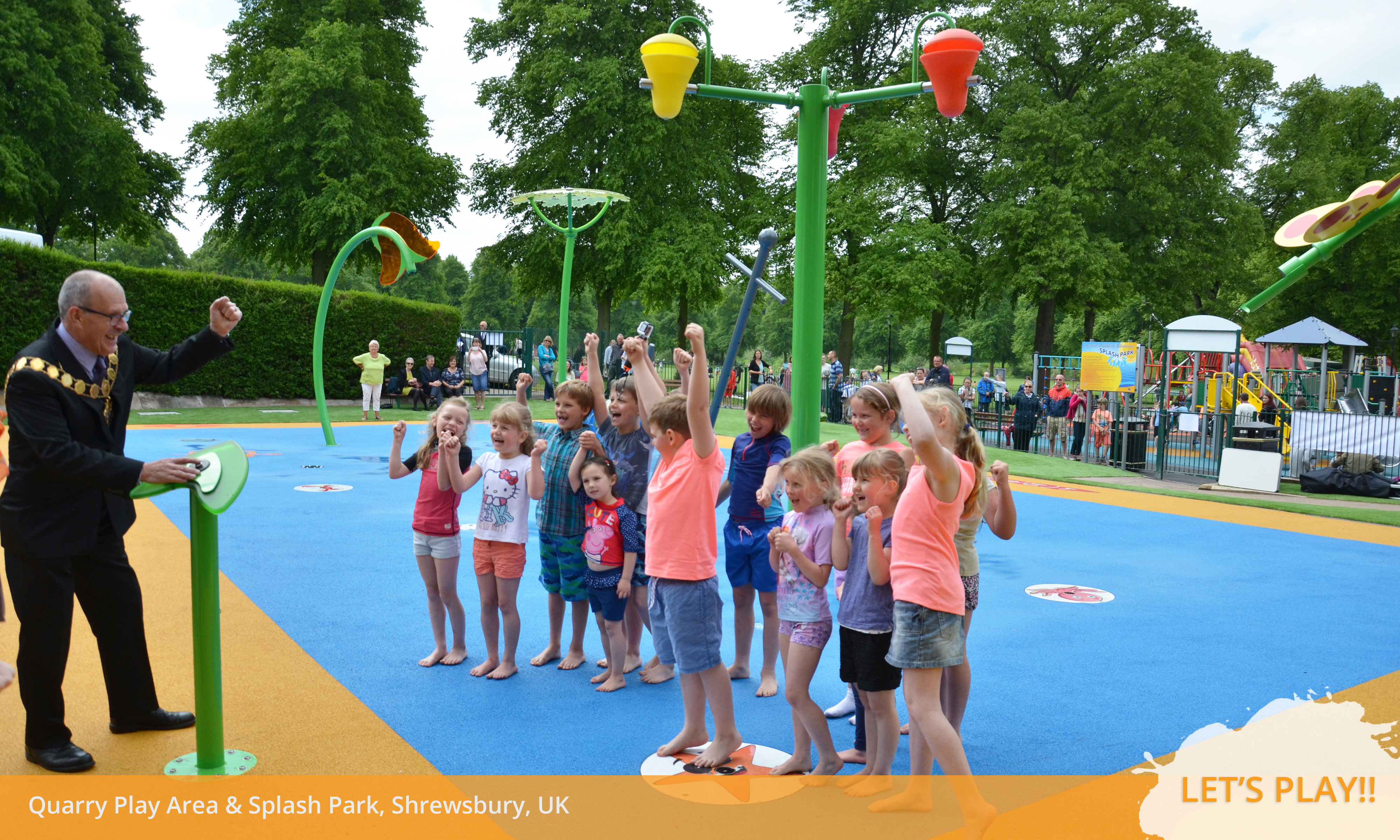 Need Help With Your Project?
Work with us! Let our highly skilled team of aquatic play experts seamlessly guide you through the process of planning, designing and installing your very own community splash pad or spray park. We're here to help you every step of the way - let's get started on your project!
Contact Our Support Team Today!