Waterplay launches Play n' Wash Park Experience; a win-win for kids and parents
Posted by waterplayAdmin on March 29, 2023
Kelowna, British Columbia, Canada, April 1, 2023
Waterplay's latest innovation in splash pad design is bringing kids and parents together in a unique and meaningful way, combining all the fun of a splash pad for kids with a drive-through car wash for parents to tackle dirty vehicles.

The inaugural Play n' Wash Kidz Car Wash™ is currently being installed in Blague, France, and local residents can expect to roll in when it opens in mid-May.

The experience for drivers will begin as the car enters the Sudz Splash™, a soap dispensing pass-through feature that saturates the vehicle with a powerful cleaning agent. Then, kids take aim with one of Waterplay's custom spray features and go wild! Powerful water cannons are used to blast the soap and dirt from the vehicle while playful ground sprays remove dirt and road debris from the undercarriage. As the cars drive through the space, overhead dumping buckets rain down, allowing kids to jump in the overspray.

"We are really excited to bring this new installation to market," says Jill White, President of Waterplay. "My parents instilled a strong work ethic in me and that's really where this idea came from. I saw an opportunity, as a global splash pad provider, to do more than just bring play and fun to kids. We also have a responsibility to teach kids the value of completing a job and allow them to have some fun while they work. It's really a win-win in my eyes.

The Play n' Wash Kidz Car Wash™ was vetted at Waterplay's global hub at its test pad in Kelowna, BC, Canada. Marketing Director Christine Ulmer admitted there were some initial safety concerns, but nothing that wasn't overcome in testing.

"When we looked at our market and realized no one was capitalizing on this opportunity, we knew we were on to something," said Ulmer. "The idea of bringing kids into a working car wash was certainly new and we did have a few close calls during testing. We added safety lines to the splash pad floor and it really helped, while still allowing the space for kids to test their risk tolerance, which is a critical part of the play experience."

The Play n' Wash Kidz Car Wash™  is available now to the global market.

Click Here to check out the NEW Play n' Wash Kidz Car Wash!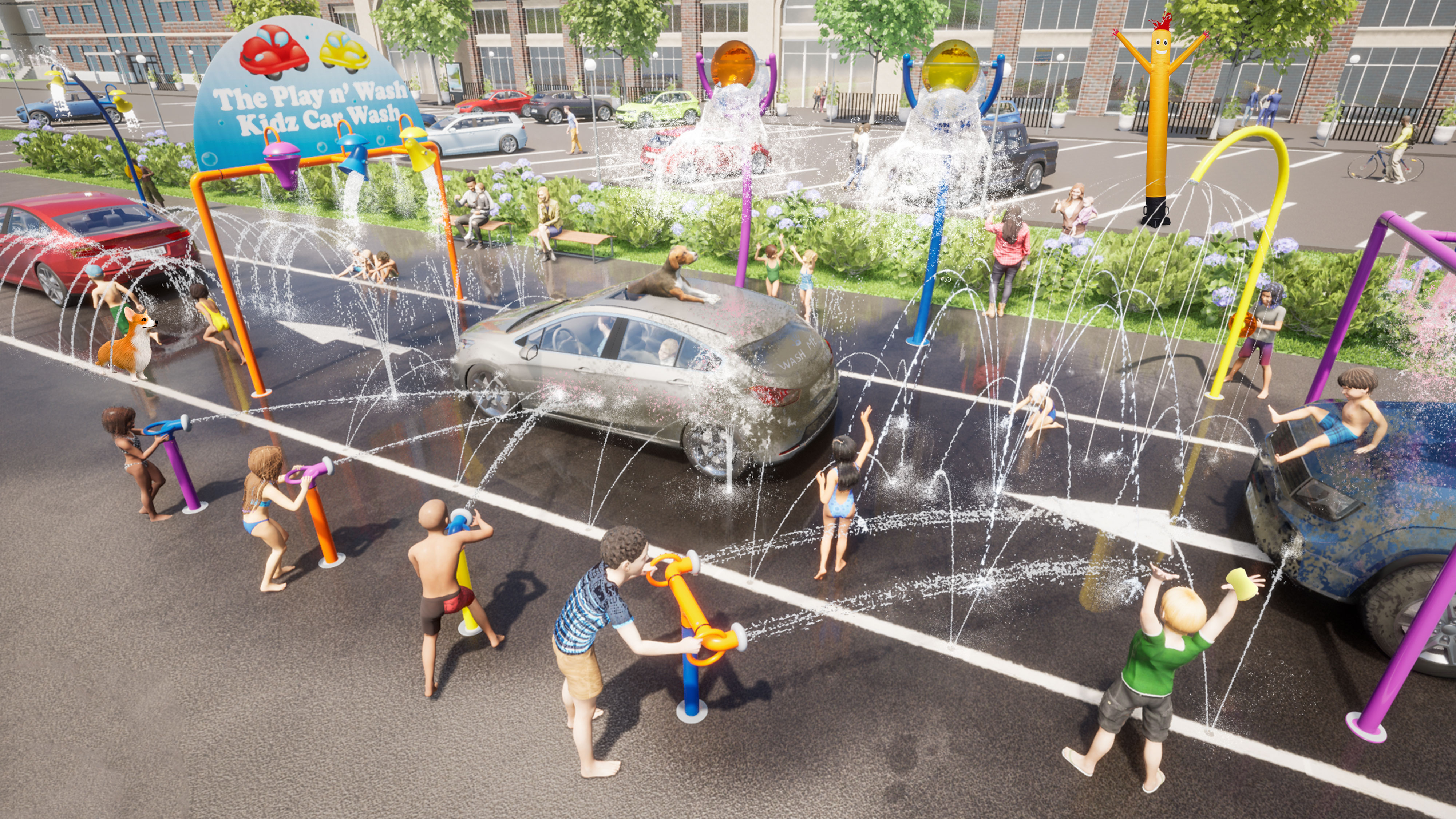 ABOUT WATERPLAY:
Waterplay creates playful, inventive, and inclusive splash pad equipment for people from all walks of life, of all ages, and with diverse abilities. Everyone should have access to amazing, inviting, playable, enjoyable and "go-backable" aquatic recreation places. With thousands of installations, and millions of happy waterplayers splashing around on six continents, Waterplay is here to support you from concept, to installation, maintenance, future planning, and revitalizations. As an advocate for all things fun and joyful, Waterplay also loves April Fools' jokes. Splash pads for the win!

For more information, please contact:
Christine Ulmer, Director of Marketing
+1 (250) 712-3393
marketing@makrgroup.com
www.waterplay.com