Project Details
Location: Salisbury, North Carolina, USA
Application: Community Park Splash Pad
Year of Installation: 2018
Main Features:
Zero-depth Aquatic Play Pad
Activity Tower (2 Slide Flumes)
Baseball Mega Soaker
Carronades
O-Riginal
Magnif-eye
Fun-Brellas
Solis Spray
Spray Tunnel 8
Lily Pad Ground Sprays
Custom Airbrushed Baseball Graphics
Water Management System
Challenge
Royal Giants Park in Salisbury, North Carolina, was established in 1978 with the land being donated by the trustees of the Spencer Royal Giants Baseball Club.
In 2016, a renovation project began to revitalize and reopen the park to provide an updated recreation space worthy of the growing community. When the existing pool structure could not be repaired, it was decided that a new, more economical, aquatic play solution was required.
The Mayor of Salisbury approached the community for their feedback and it was soon revealed that a place where families and social groups of all ages and economic backgrounds could have fun together was needed. A community splash pad was their top choice!
Amazingly, the community came together and raised an outstanding $360,000 through donations and pledges. In lieu of their remarkable efforts they were awarded the North Carolina Parks and Recreation Trust Fund Grant, exactly matching their fundraising efforts. With the needed funds secured, it was now time to choose the right splash pad design.
When Waterplay's renders came through, it was exactly what the community needed, a perfectly themed splash pad that offered exciting, interactive and collaborative play experiences.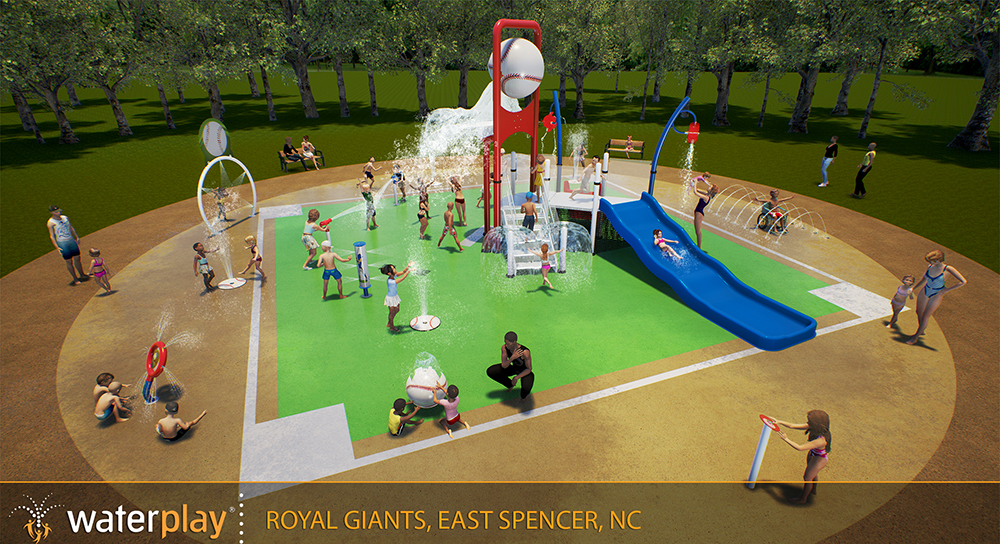 Solution
In partnership with Carolina Recreation and Design, this awe-inspiring 3,000 Sq.ft splash pad was designed and installed with the project reaching completion in October 2018.
To honour the heritage of the park, a baseball theme is found throughout; showcasing an Activity Tower with two slide flumes, spin splashers and an airbrushed baseball mega soaker for big splashes. At the entrance to the activity tower, fun-brellas offer a unique laminar water effect to fascinate curious minds.
The splash pad also features twenty-five baseball-themed spray features including,
A 24" Solis that encourages sensorial play,
Dual Carronades for high energy water cannon action,
Four baseball-themed Lily Pad ground sprays,
A Magnif-eye that rotates 360-degrees to create gentle water effects,
And much, much more!
To keep the splash pad functioning at top performance, a re-circulation water management system was implemented with remote access capabilities, auto-backwash functionality and many more helpful automated maintenance features.
This Water Management Solution is ideal for small communities where water conservation and eco-friendly options are top of mind.
Impact
In comparison, to a traditional pool structure, the new Royal Giants zero-depth splash pad is not only more cost effective but also, extremely low maintenance.
Zero-depth splash pads do not require on-duty lifeguards; they are highly accessible to the public and with a water management system that allows for remote access, maintenance is a breeze!
In the end, the splash pad was a great success; it had not only fulfilled its goal of providing an alternative, economically feasible aquatic solution but had also, brought the community back together and returned a smile to everyone's faces.
Need Help With Your Project?
Work with us! Let our highly skilled team of aquatic play experts seamlessly guide you through the process of planning, designing and installing your very own community splash pad or spray park. We're here to help you every step of the way - let's get started on your project!
Contact Our Support Team Today!