Curry Reserve Water Play Space
In Camden, New South Wales, Australia
Project Details
Location: Camden, New South Wales, Australia
Application: Community Park
Year of Installation: 2018
Main Features:
Discovery Stream
Beach Ball Soaker
Marram Grass
Seagull
Water Flower
Windsock
Sneaky Spin Soaker 3
Archie
Splash Blasters
Fun-Brella
Mist Stick
Spinny Squirt
Plus, More!
A Play Space for Everyone
Interact with dancing Kites that soar high above or a bright Windsock floating in the ocean breeze. Run through the gentle sprays of the Marram Grasses and giggle with excitement as the Water Flower showers down a delightful splash. Look out though for the curious Seagull as it swoops in to check out the action over-top misting grasses.
This new community splash park at Curry Reserve Water Play Space includes thirty-six play features chosen from our Shoreline and Grasslands Collections. Illustrating a more natural aesthetic this beautifully designed, zero-depth splash pad fits seamlessly into the surrounding landscape.
A crowd favorite and the center piece of the water play space is the towering Beach Ball Soaker which fills and then, dumps 30 gallons (113 liters) of water on those brave enough to gather below!  To accommodate younger Waterplayers, a meandering Discovery Stream, to hang out at under the shade sails, invites hands-on discovery and learning via interactive weirs of fish, duck wheels and more.
For this project our team at ParkEquip collaborated with the client to create a high-quality recreational facility that supports a healthy lifestyle, encourages social engagement and most importantly, offers a play experience for every park goer, regardless of their physical ability.
On opening day, the excitement was contagious — children beamed from ear to ear, parents happily socialized — everyone thoroughly enjoyed the new splash park with many planning a return visit!
Opening Day at Curry Reserve!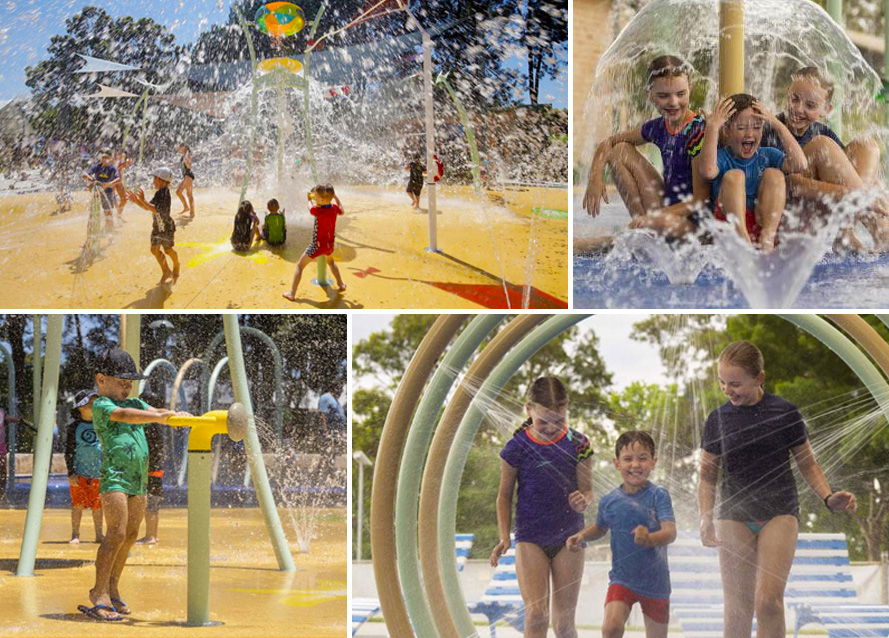 Need Help With Your Project?
Work with us! Let our highly skilled team of aquatic play experts seamlessly guide you through the process of planning, designing and installing your very own community splash pad or spray park. We're here to help you every step of the way - let's get started on your project!
Contact Our Support Team Today!