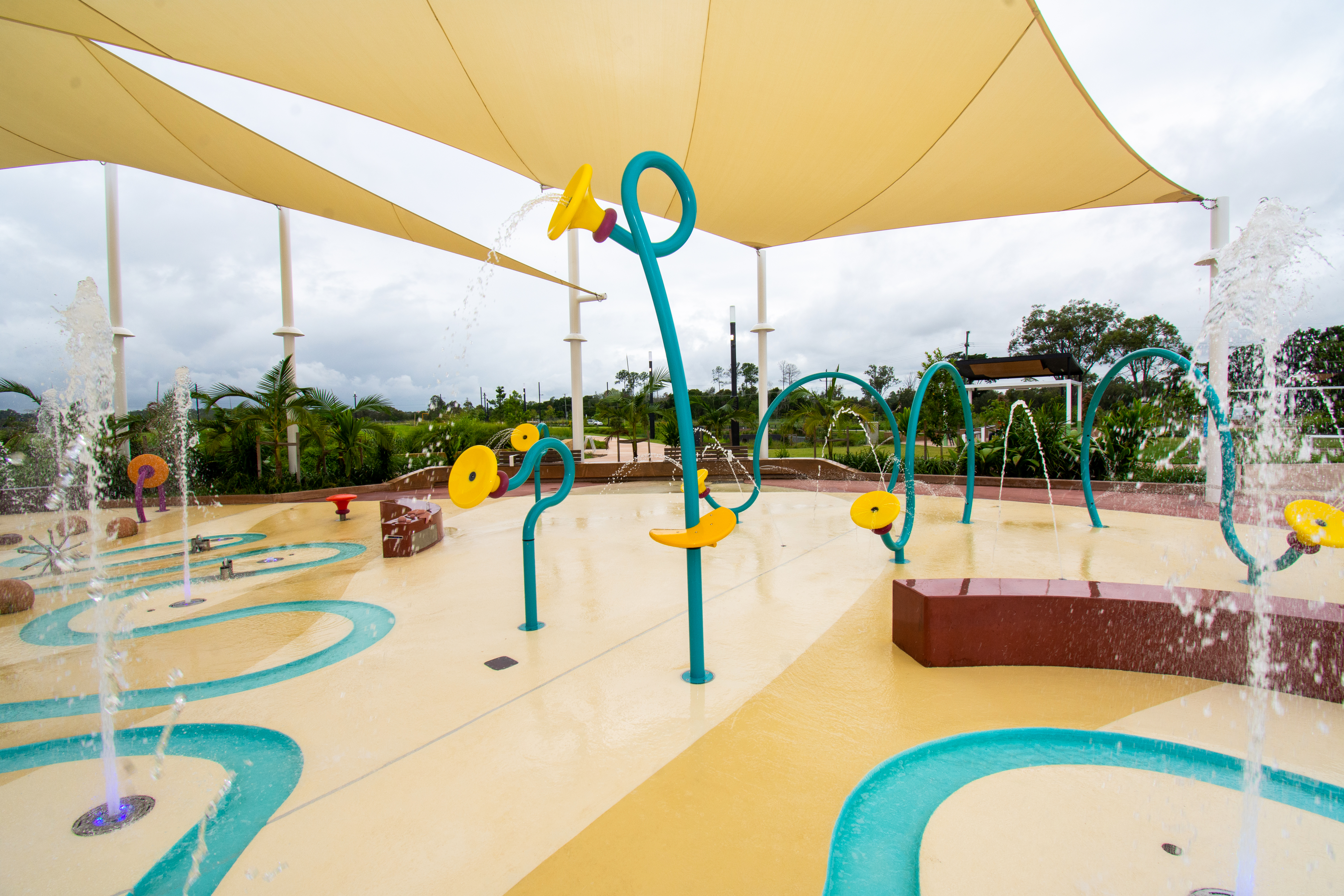 PETRIE MILL AT MORETON BAY PARKLANDS
PETRIE, QUEENSLAND, AUSTRALIA 
Project Details
Location: Petrie Mill, Queensland, Australia
Application: Community Space
Year of Installation: 2019
Main Features:
Cannons
Boingo
Roue Cyr
Aqua-Batic
Puddles
Petrie Mill, Queensland, Australia

 
Petrie is in the North Pine River section of its local government area 24 kilometres north of Brisbane City. The southern boundary is marked by the North Pine River.
Petrie is a suburban village with new housing developments on land which was previously used for pine plantations and agriculture. Petrie railway station provides access to regular Queensland Rail City network services to Brisbane and Ipswich, as well as Caboolture and the Sunshine Coast.
TRANSFORMING A COMMUNITY 
A stunning revitalization, families and children of all ages can now come to play at Moreton Bay Regional Council's NEW regional park. Complete with adventure play, water play, BBQ's, shelters and an amenities block, this award winning space is a compliment to a growing area where people can live, work and raise their families! 
SOLUTION
A zero-depth splash pad beautifully designed with cannons, drenching loops and spinning sprays makes for a dynamic, fun-filled splash pad. What makes this space especially awesome is the hands-on, action-reaction play elements at various heights that promote active play for all ages and abilities. To bring it all together is the popular "PUDDLES" that bring the fun of rain puddles to the splash pad! Kids of all ages can stomp, dance or hop on this unique ground spray to create a splashy water effect. It's the ORIGINAL splash pad Puddle! 
The play space is such a success it's part of an award-winning revitalization project: 
2021 PARKS AND LEISURE AUSTRALIA EXCELLENCE AWARD  (QUEENSLAND) 
PROJECT COLABORATORS
Teamwork Makes the Dream Work - thank you to the many collaborators working behind the scenes who made this splash pad happen!
Need Help With Your Project?
Work with us! Let our highly skilled team of aquatic play experts seamlessly guide you through the process of planning, designing and installing your very own community splash pad or spray park. We're here to help you every step of the way - let's get started on your project!
Contact Our Support Team Today!