Aquatic Play Maintenance – Winterization
Winter is coming, is your splash pad ready?
The days are getting shorter, the leaves are changing colours and a brisk chill lingers in the evening air... Yes, winter is coming and now is the time to shut down your community's splash pad.

To ensure a trouble-free start-up next spring, it's important for aquatic play areas to protect their equipment by following a proper winterization process. Ensure your waterplayers are smiling and splashing next spring.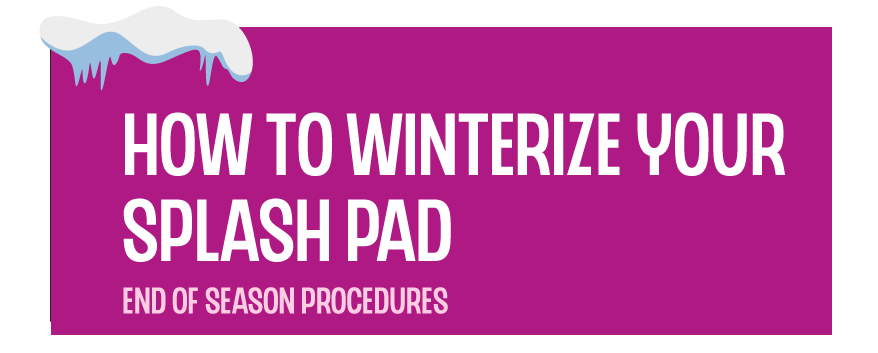 Seasonal splash pad maintenance is key to a stress-free operating season, and we are here to help you and your service professionals every step of the way.
Did you know that you need to:
Drain all feature lines 

Inspect all hardware and tighten or replace as required 

Remove and clean all spray nozzles 

Install winter nozzles and winter caps where applicable 

Inspect all accessories for any damage and replace as required 

Clean all features of any hard water deposits and deficiencies 

Add RV-grade antifreeze to lines for further freezing prevention 

And much more...
To help you get started, we've prepared a Splash Pad Winterization Checklist. It's packed with recommended maintenance measures and specific instructions: 
Download the Winterization and Shutdown Checklist


Whether you need technical advice on installation procedures, parts ordering, warranty questions, product improvements or need field support, Waterplay provides ongoing toll-free phone support, electronic manuals and installation guides, to provide quick responses to questions and maintenance requirements. Get in touch with us should you need any assistance! 
Get in touch with our support team and we will happy to assist you.

TEL: 1.888.890.6257 (MAKR) 
---
Waterplay Water Treatment
Learn about Water play's Water Treatment System and the smartPlay Controller
Learn More