Free Mini Webinar Series - Aquatic Playscape Design
Thank You to Everyone Who Joined Us for the Webinar Series!
We hope that you found the information insightful and that it will serve as inspiration for the construction of many amazing aquatic play spaces across the globe. If you would like to request a recording of one or all of the webinars, please reach out to us at info@waterplay.com. See below for more details on the series, each webinar and our presenter, Melinda Pearson.
About the Series
Discover the link between curiosity and play-based learning, strengthen your knowledge of inclusive design and delve into the exhilarating world of risky play. Choose from a series of fun and informative free educational sessions, presented by Waterplay's Design & Specification Manager, Melinda Pearson.
About Melinda
Melinda Pearson is the Design and Specification Manager at Waterplay Solutions. With over two decades of experience in the aquatics industry she has helped deliver hundreds of unique and creative play projects across the globe and presented countless education seminars on play space design. A self-professed lifelong learner, her work is driven by her passion for play value and the theories behind Universal Design and childhood development. Melinda has published numerous articles for industry magazines including Parks & Recreation Business, Athletic Business, Recreation Management, and World Waterpark Association publications.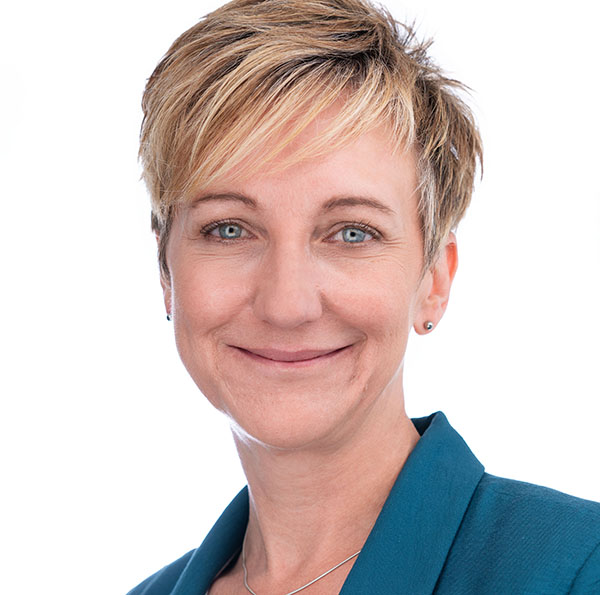 HOW PLAY & CURIOSITY CONNECT
Children are naturally curious about everything! Our most important job is to nurture this curiosity and build these learning processes into our aquatic play spaces. Join us for an engaging look at how to instill a sense of curiosity in children through innovative aquatic design so that they seek out new experiences and fully develop 21st-century skills needed for later academic achievement.
Contact Us to request a recording of this webinar.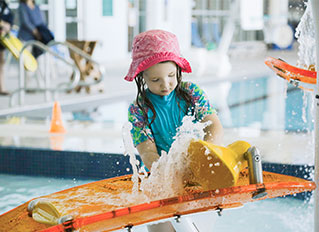 FREE PLAY IN A CONTROLLED WORLD
Kids love risky play! We know that it helps to increase self-esteem, decrease conflict sensitivity, and help with problem-solving skills but what does risky play look like in an aquatic environment? How can we incorporate that into these spaces whilst keeping children safe? Let's explore these topics together and determine a road map for the construction of liberating multi-dimensional aquatic play environments.
Contact Us to request a recording of this webinar.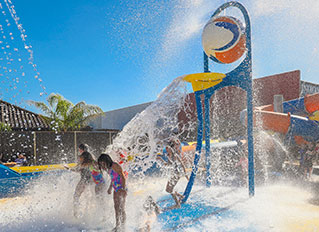 UNIVERSAL SPLASH PAD DESIGN
Invite everyone to play! In today's world, we strive to avoid segregation and provide inclusive spaces. The 7 Principles of Universal Design, developed in 1979 by a professional group of designers, researchers, and engineers, are still applicable today and have become world-renowned in the design of any public space. Strengthen your knowledge of these design principles and how they can be applied to aquatic environments to create rewarding experiences featuring flexible, intuitive and approachable play for people of all ages and abilities.
Contact Us to request a recording of this webinar.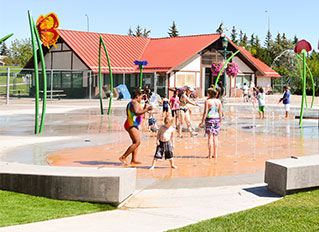 INCLUSIVE PLAY
Designing for inclusivity goes beyond ADA compliance. Individuals are still experiencing exclusion from traditional play experiences that can be easily avoided. Inclusive play goes beyond getting wet on the aquatic play pad, it's about the quality of the play experience that follows. Broaden your understanding of inclusivity, its community benefits and how to simultaneously accommodate different play habits and styles so that everyone can play together in one space! 
Contact Us to request a recording of this webinar.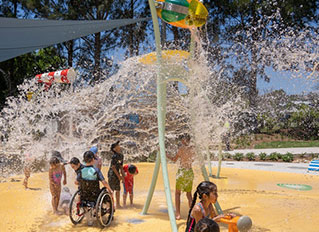 BUILDING AQUATIC PLAY SPACES
Playspaces should promote development and learning. This session discusses the foundations and best practices in aquatic play design. How do we manage the water? How do we provide a facility that attracts patrons and keeps them coming back? How do we define success? Join us as we unite the concepts of play, design, and inclusivity to move forward into building successful aquatic environments.
Contact Us to request a recording of this webinar.
Need Help With Your Project?
Work with us! Let our highly skilled team of aquatic play experts seamlessly guide you through the process of planning, designing and installing your very own aquatic play space. We're here to help you every step of the way - let's get started on your project!
Contact Our Support Team Today!