Water Management Solutions
With options for every footprint, Waterplay's Water Management Solutions lead the industry in technology and function. Our tools and systems are designed to work together to create a sustainable environment, ensuring your investment will continue to meet environmental, social, and economic standards for many years to come.
 

 

Create a SUSTAINABLE play space.
View/Download our WATER MANAGEMENT Brochure.
WATER MANAGEMENT 101
WATER MANAGEMENT is about making water work for the specific needs of your aquatic play design and its surrounding infrastructure. Knowing what will happen with your water is a vital component of a successful aquatic play project.
To get you started, we've put together the top five things you should consider when choosing a Water Management system for your space. 
Before you choose, answer these FIVE questions:

› What is the quality of my water?


› What type of water & electrical service do I have?

› What are the health codes for my area?

› Where will my WMS be located?

› What type of maintenance is required? How often?
See below for more information about Waterplay's industry-leading Water Management tools and systems and contact us today to request your FREE feasibility and analysis planning session!
WATCH NOW: An In-depth Look at Water Management (Length: 60 mins)
WATER MANAGEMENT TOOLS
CONTROLLERS
The brains of the operation, controllers command the water, telling it what to do and when to do it. They work in conjunction with the Activator and Control Center to control the sequencing of water to each of the play features and open and close the water source in accordance with the splash pad's operating hours.
CONTROL CENTERS
The powerhouse for water distribution, Waterplay's Control Centers ensure that water gets to where it needs to be accompanied with the flow rate that you require.
Choose from a variety of installation types to support the needs of your space, from adaptable Wall-Mounted Manifolds to self-enclosed Above-Grade Kiosks and Below-Grade Vaults.

Contact us today to get started.

ACTIVATOR
Push, spin or turn to start the flow of water, Waterplay's on-demand activators optimize water use by activating the water only when Waterplayers are playing. A perfect solution for reducing water consumption while creating a dynamic play experience.
Waterplay offers a playful assortment of interactive activators including the Sprout, Power Post, Ringmaster, Whirler and Presto.
Contact us today to start the fun!
ECO ACTIVATOR BASE
| | |
| --- | --- |
| • | All-in-one water management |
| • | Perfect for small play spaces |
| • | Manifold & controller technology |
| • | Installed flush-to-grade |
| • | Compatible with multiple activators to compliment your space |
THE SYSTEMS
RECIRCULATION
Waterplay's recirculation system functions as a closed water management unit that continually recycles treated water to and from the play space.
System Benefits
An economical and eco-friendly option, recirculation systems minimize water consumption and provide a high return on investment in your aquatic play space over time.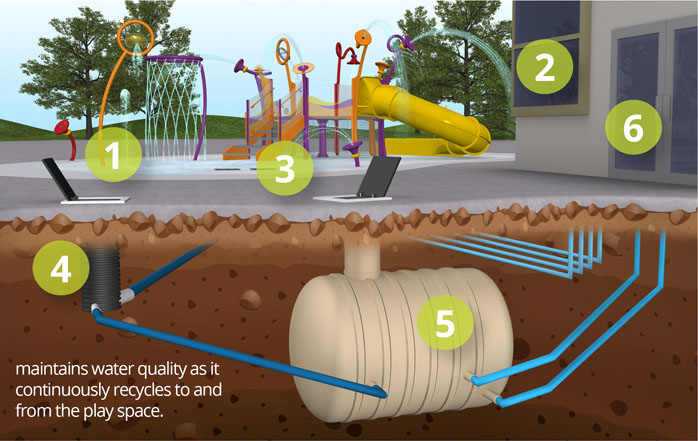 | | |
| --- | --- |
| 1. | Activator |
| 2. | Controller & Manifold |
| 3. | Drain |
| 4. | Diverter & Strainer |
| 5. | Holding Tank |
| 6. | Water Mgmt System |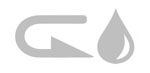 Recirculation Water Treatment Systems
Waterplay's high-efficiency, factory-built and tested water treatment systems are expertly configured for dry and liquid chemical applications. Work with our in-house support teams to select a system that offers the perfect solution for your space. Contact us today!
RETAIN & REUSE
Retain & reuse water management systems capture and repurpose water from the play pad for alternative uses in the surrounding infrastructure.
System Benefits
Retain and Reuse systems help conserve resources and take full advantage of an aquatic play space within the infrastructure.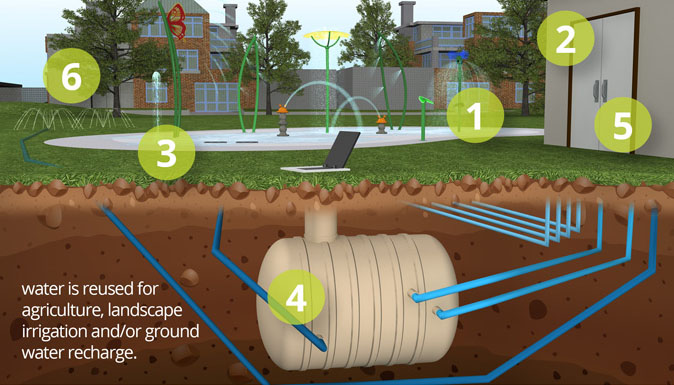 | | |
| --- | --- |
| 1. | Activator |
| 2. | Controller & Manifold |
| 3. | Drain |
| 4. | Holding Tank |
| 5. | Water Mgmt System |
| 6. | Repurpose |

Diverter Strainer System
Designed to strain and divert water to the holding tank when the splash pad is in service and redirect wastewater outside of operational hours, Waterplay's Diverter Strainer system is a helpful tool for maintaining clean, well-functioning outdoor splash pads and spray parks. For more information about this product, reach out to us today for a FREE Water Management consultation.

FLOW-THROUGH
Flow-through water management systems drain into the local sanitary or storm drain system. The water is then handled according to local municipal water management strategies.
System Benefits
Low initial capital investment with minimal maintenance requirements.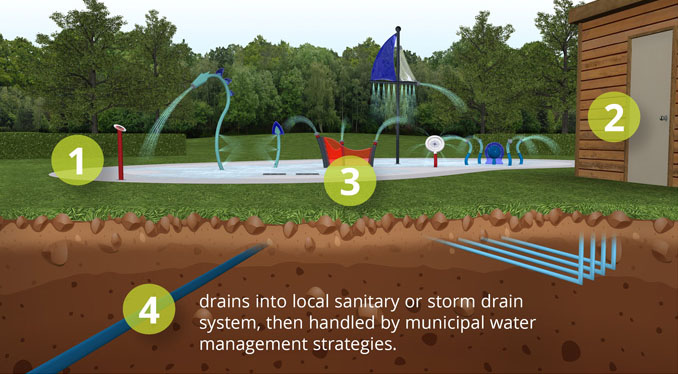 | | |
| --- | --- |
| 1. | Activator |
| 2. | Controller & Manifold |
| 3. | Drain |
| 4. | Water Mgmt System |

High-Flow Rate Capacity Drains
Attractive, durable, easy-to-install, and maintain Waterplay's high-flow rate capacity drains are proven to stand up in both indoor and outdoor aquatic environments. Learn more about our Classic Square Drain and the water-smart Circular Stainless Steel Drain.

Find the right Water Management Solution for your project!
Contact us to request a feasibility and planning session. We'll help you determine which water management strategy is best for your project.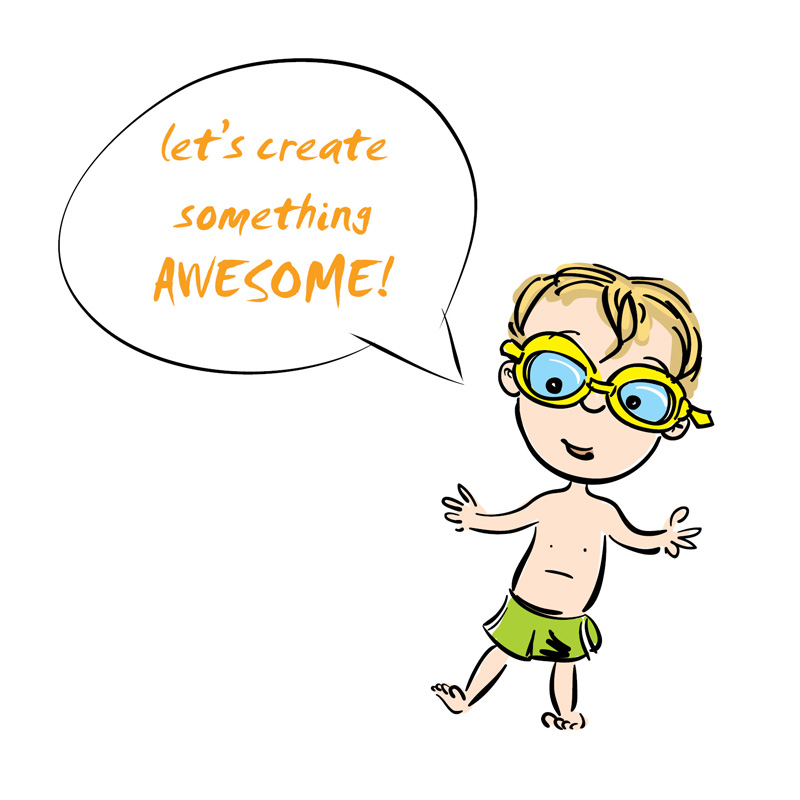 CONTROL

THE WATER
The brains behind the operation, Waterplay's controllers tell the water what it should do and when to do it. They work in conjunction with the manifold and activator to handle the behind-the-scenes functionality of your splash pad.
Waterplay offers a variety of controllers from the simple and affordable Basic controller to the "connect anywhere" and feature-packed smartPLAY™ controller equipped with Waterplay smartACCESS™.
Find the best solution for your budget and project requirements, contact us today!