PlayPHASE Ground Spray
When we say the playPHASE™ Ground Spray is adaptable—we're serious… (serious in a fun way). Choose any 2.5" ground spray from our line to find the perfect water effects for your unique space. With a range of flow rates and spray radii—you can build to your current splash pad needs with an eye on the future as the playPHASE™ Ground Spray allows you to easily change out nozzles or upgrade to a larger play feature at any time.


Compatible Ground Spray Nozzles:
---
Buttercup (0010-7474)
The Buttercup sprays three thin streams of soft water to about two feet (0.6 m) before cascading downwards. A gentle, multi-directional, angled spray effect. View Spec Sheet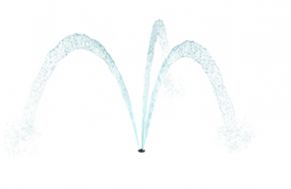 ---
Charlotte's Web (0010-7475)
Spiderman's favourite! Charlotte's Web creates a wide-spread, circular pattern reminiscent of a spider shooting it's web - - perfect for imaginative play spaces. View Spec Sheet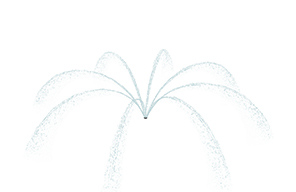 ---
Confetti Spray (0010-7476)
Hooray! The Confetti Spray is cause for celebration with eight large streams encircling eight smaller streams, this small ground spray shoots into the air like a burst of confetti. View Spec Sheet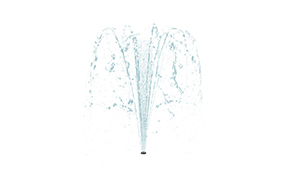 ---
Fountain Mountain (0010-7477)
Excite your senses and make an impact with the Fountain Mountain! An impressive multi-stream ground spray with a dynamic spray pattern. View Spec Sheet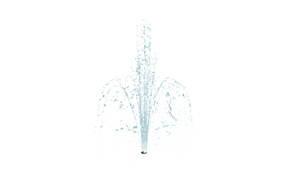 ---
 Geyser (0010-7478)
The Geyser is a crowd favorite! Call it "Old Faithful" this low flow, high-impact ground spray is one of our largest ground sprays and a perfect addition to any play space. View Spec Sheet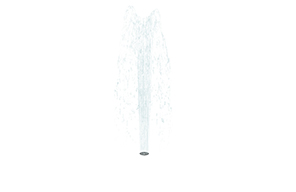 ---
Misty Mountain (0010-7479)
Find your way through the mist! This ultra low flow nozzle creates a refreshing misting spray effect that tickles the senses. View Spec Sheet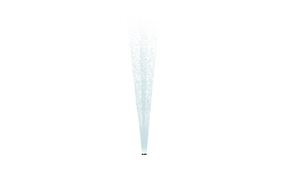 ---
Monster 5  (0010-7480)
The Monster 5 Ground Spray creates a gentle, bubbling spray effect - - perfect for tactile stimulation and discovery zones. View Spec Sheet
 
---
Solo Spurt  (0010-7481)
A refreshing spurt of water! The Solo Spurt is ultra low flow making it the perfect nozzle for those looking for classic play value that considers water conservation. View Spec Sheet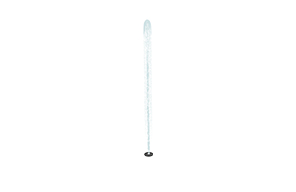 ---
Split Spurt (0010-7482)
High play value mixed with low water consumption! This angled ground spray features two streams of water, creating a tunnel and encouraging Waterplayers to consider spatial awareness. View Spec Sheet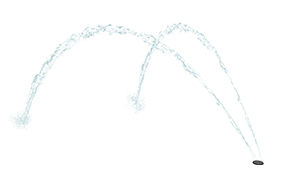 ---
Starlet Spray (0010-7483)
Splash amongst the stars! The Starlet Spray's 10 water streams extend out like a star, creating a stunning water effect, a great addition to any aquatic play pad. View Spec Sheet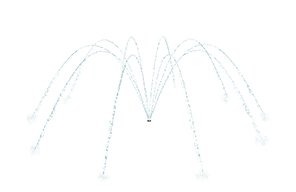 ---
Steady Stream (0010-7484)
Adaptable to any footprint! Perfect for tight spaces or unique designs, the Steady Stream is an adjustable ground spray that shoots a single arching stream of water. View Spec Sheet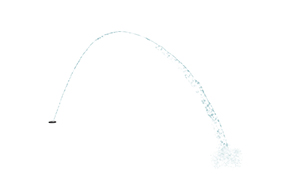 ---
Straight Up (0010-7485)
Waterplayers will be showered by the column of water created by the Straight Up ground spray. A great addition to any play zone, this ground spray reaches up to five feet (1.5 m) in height! View Spec Sheet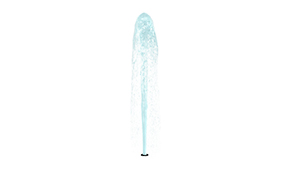 ---
 Wave (0010-7486)
Surf's up! This high impact angled ground spray features six openings that create a giant single wave effect. The Wave nozzle is great when used to create a park perimeter or when placed in line to create a tunnel wave effect. View Spec Sheet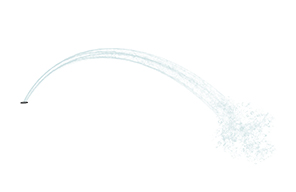 ---
Tidal Wave (0010-7487)
An even bigger version of the popular Wave, the Tidal Wave encourages spatial awareness while making a BIG impact on the play pad! View Spec Sheet
 
---
Tower Spray (0010-7488)
Go big or go home! Shooting water through 21 small openings and reaching up to six feet (1.8 m), the Tower Spray sends water soaring into the sky with an impactful and playful water effect. View Spec Sheet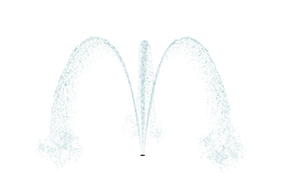 ---
 Tulip (0010-7489)
Elegant, engaging and sensory! Soft sheets of water burst from the Tulip making a flower-shaped spray that invites hands-on exploration! View Spec Sheet
 
Need Help With Your Project?

Work with us! Let our highly skilled team of aquatic play experts seamlessly guide you through the process of planning, designing and installing your very own community splash pad or spray park. We're here to help you every step of the way - let's get started on your project!
Contact Our Support Team Today!